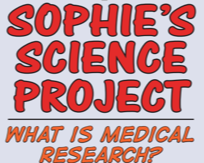 Families Fighting Flu
Families Fighting Flu is a non-profit organization dedicated to protecting children, families, and communities against the flu. They support families whose children have suffered serious medical complications or died from influenza, as well as other advocates and healthcare professionals committed to flu education and prevention.
Sophie's Science Project
Sophie's Science Project is a child-friendly comic book and a great resource for kids to increase their understanding of what clinical research is all about.
The CDC has very useful information about Influenza, including a flu tracker, symptoms and treatment options, and prevention techniques.
Read more about the importance of children's participation in clinical studies, the possible benefits of participation, and information about clinical research.